Of everything in your home… Art is the most personal.
Art reflects not only your taste, but also your interests, passions and beliefs .
Why not have your artwork in the spirit and flavour you want? Commission a piece of artwork today !
A Fine Point of View
This two part acrylic on canvas was created to be hung in a front entrance hallway offering a pop and focal point. The inspiration was taken from the local vineyards, mountains and lake view, where my clients have purchased their new home. The composition was designed to fill the canvas size and the palate of colors were created to compliment their existing scheme. They wanted a bright and enjoyable works that made them feel delighted when they returned home.
Serenity Found
Serenity Found "Serenity Found" painted by Lambert of Wine Country Studios, was driven by the discerning client, Wendy. She has always enjoyed the magic of the cliffs dropping to the water and she was a very much a part of this paintings creation. This soothing scene works well with the room, while providing a much needed focal point on her mantel. The richness of Oils always is a classic that is timeless and will never go out of style.
---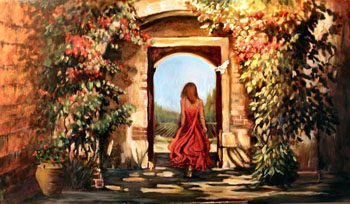 "Louise took our thoughts for the type of art we wanted in our home and worked with us to give us a beautiful painting that we could not be happier with. This is our third painting of Louise's and it fits so well with the previous two".
Bill and Darlene Martin
West Kelowna, BC
---
It was a pleasure working with Louise. Her art has captured the beauty of the Okanagan, adding warmth and beauty to our home. She is very talented and exceptional to work with.
Anna Simons,
Calgary
---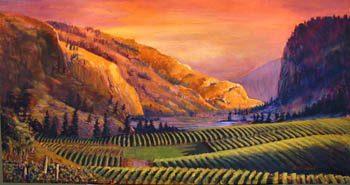 Louise fulfilled our dream by painting ¨Symphonie Champêtre¨ in which she has captured the warm earthy tones of the vineyards with its ever-changing glows against the majestic background the Okanagan Mountains and lake suggest. It is with great pride and enthusiasm that we welcome our dream come true!
Thank you so much Louise
Elaine and Rick Gordon,
Kelowna BC
---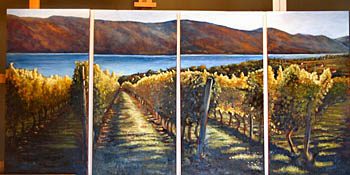 "We just love it these panels series captured from Quails Gate Winery"
Norm and Leslie Wilson
Vancouver, BC
---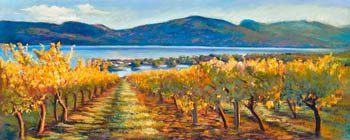 "This painting just works so perfect in my room, it truly is the focal point"
Lori Rundle


Calgary, Alberta
---