Golden Lake
$1,200.00
Pastel Study – 30″ x 40″
Original by Louise Lambert
In stock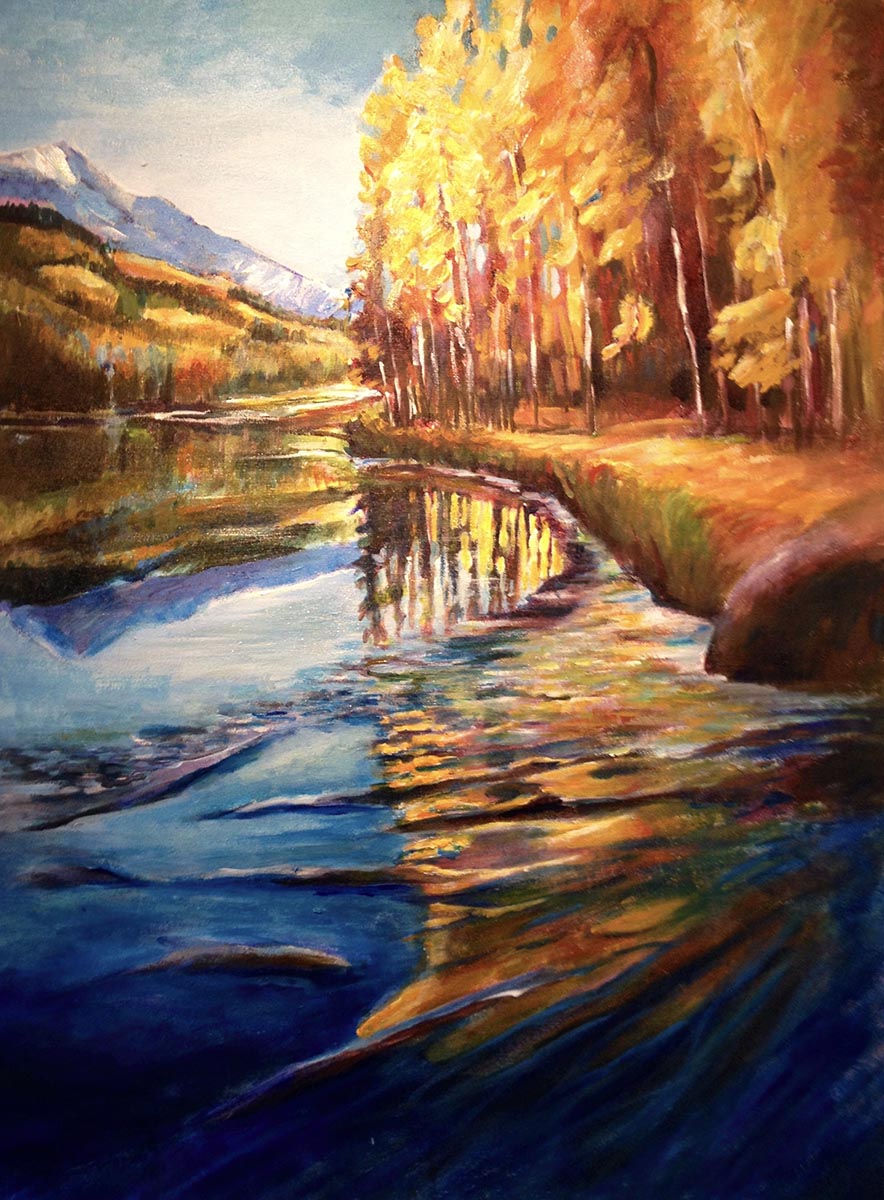 Snow covered mountain peaks crest the shorelines of birch trees turning their golden hue in this painting.  The contrasting cobalt blue waters capture the lands reflections in a broken mirror pattern.  30" by 40" acrylic on canvas
What Our Clients Have To Say
Your painting resides over the fireplace where it looks great.
"Naramata Evening" hangs proudly above the fireplace and brings my living room to life. It captures the amazing beauty of the Okanagan! Louise did an excellent job helping me source the right art piece for my new home, with the appropriate frame. I have passed her name on to several friends and family.
"I have purchased numerous paintings from Louise throughout the years.  The room absolutely comes to life once Louise's artwork is hung and then there is such a story to tell.  Each piece has a unique story and sharing that story with others simply never gets old.  She paints the most romantic, vibrant, beautiful creations.  Her work is stunning.  It is always a pleasure showcasing Louise's artwork in our home.  The compliments are endless.  Louise is exceptionally talented."
"It was a pleasure working with Louise.  Her art has captured the beauty of the Okanagan, adding warmth and beauty to our home.  She is very talented and exceptional to work with."
 I have been a fan of your art ever since I visited the Red Rooster Winery in October of last year.
"I commissioned a piece from Louise for a client gift. The goal was to immortalize the property the lady had grown up in and give it a renewed sense of charm, as it had aged quite a bit.
Louise not only did that, she exceeded my expectations and created a piece that brought so much joy to my client!
Her sense of what the piece was for was conveyed in her work and every stroke of the brush seemed to take us back in time to a house that now empty, was once filled with love and joy and the laughter of a happy family.
I would highly recommend Louise to anyone looking for a special gift to share- thank you Louise!"

Personal Real Estate Corporation
FWG/ Christie's International Real Estate, Vancouver, BC
Thanks for doing the show at Summerhill; it was a pleasure and an honor
to have you at our Winery.
Summerhill Pyramid Winery, Kelowna, BC
After seeing the painting on the cover of the Okanagan Fall Wine Festival, we went online to discover more about the artwork of Louise Lambert and proceeded to visit her at her studio for an up close and personal impression.  For a long time we had been looking for a painting that would grace our home with the wine country, we are so lucky to live in. Louise fulfilled our dream by painting ¨Symphonie Champêtre¨ in which she has captured the warm earthy tones of the vineyards with its ever-changing glows against the majestic background the Okanagan Mountains and lake suggest.  It is with great pride and enthusiasm that we welcome our dream come true!
This is the perfect learning atmosphere. And if advanced to enjoy the atmosphere. Highly recommend -it was a spectacular workshop and a lot of fun.
 We love the painting and having it hanging in our living room here at Predator Ridge.
$1,200.00
In stock