Surfs Up
$589.00
Acrylic on Canvas – 24" x 12"
Original Seascape by Louise Lambert
Sold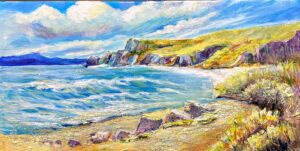 This textural painting was created with actual sand gathered on the British Columbia beaches.
Surfs Up, was featured in the Coastal Water Protectors, 2023 event held in Vancouver, British Columbia.
What Our Clients Have To Say
"We definitely are enjoying your artwork, we just love it"
 We love the painting and having it hanging in our living room here at Predator Ridge.
This is the perfect learning atmosphere. And if advanced to enjoy the atmosphere. Highly recommend -it was a spectacular workshop and a lot of fun.
"Louise created several commission works for our office; she is professional, on time and on budget.  The artworks are beautiful and add so much interest to our clinic." 
The De Pieri Clinic, Kelowna, British Columbia.
Your painting resides over the fireplace where it looks great.
"I commissioned a piece from Louise for a client gift. The goal was to immortalize the property the lady had grown up in and give it a renewed sense of charm, as it had aged quite a bit.
Louise not only did that, she exceeded my expectations and created a piece that brought so much joy to my client!
Her sense of what the piece was for was conveyed in her work and every stroke of the brush seemed to take us back in time to a house that now empty, was once filled with love and joy and the laughter of a happy family.
I would highly recommend Louise to anyone looking for a special gift to share- thank you Louise!"

Personal Real Estate Corporation
FWG/ Christie's International Real Estate, Vancouver, BC
 I have been a fan of your art ever since I visited the Red Rooster Winery in October of last year.
That is Incredible! I love it!  "Wine Time for Canines", It looks so great! 
Did I mention I love it? In addition, thank you!
"Naramata Evening" hangs proudly above the fireplace and brings my living room to life. It captures the amazing beauty of the Okanagan! Louise did an excellent job helping me source the right art piece for my new home, with the appropriate frame. I have passed her name on to several friends and family.
Thank you so much for the artwork I purchased. It is even lovelier than I remembered! In addition, the colours go GREAT with our kitchen/great room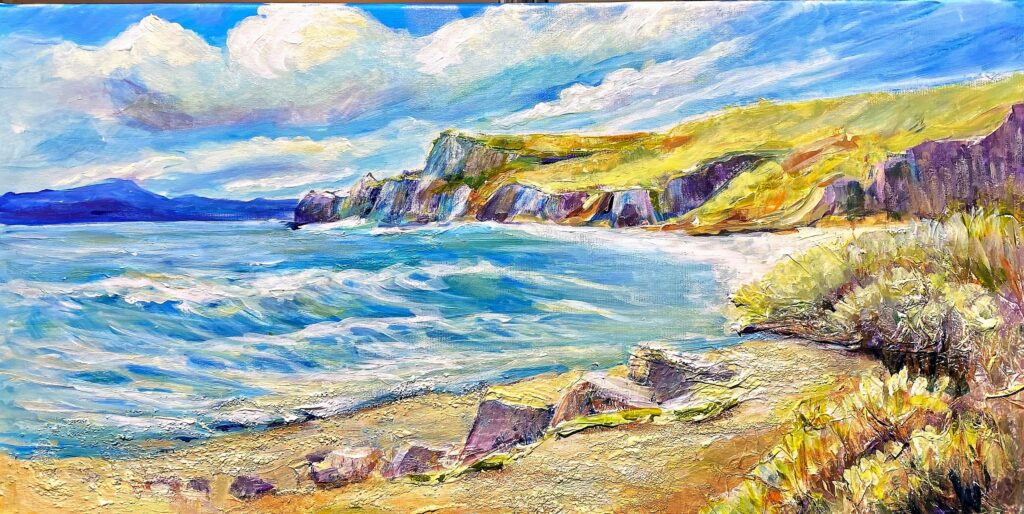 $589.00
Sold