Quails with Designs
 Acrylic on Canvas – 9 ¼" by 11 1/4″
Original art by Louise Lambert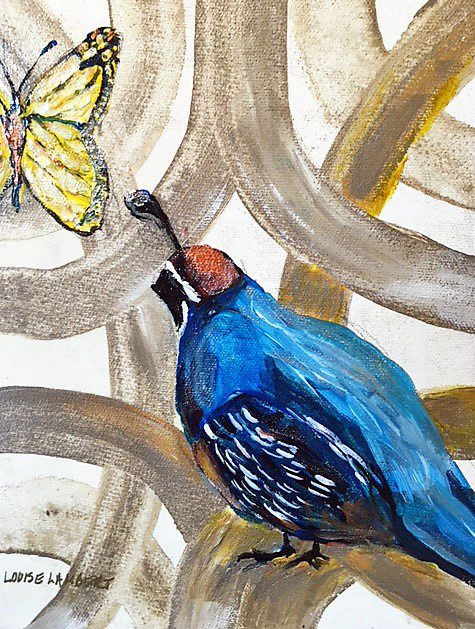 Designer Quail poses by yellow butterfly painted in acrylics on canvas, surrounded by a black modern floater frame.
Capture the delight of the valley with this Quail artwork and its background partner ready to hang on your wall.  Quails with Designs & Butterfly make a charming gift.  Collect the original  set including Quail Portrait, Quail Design and Groovy Quail.
Size 9 ¼" by 11 1/4
Weigth-1 lb
Flat rate shipping throughout Canada-$23.44
What Our Clients Have To Say
Your painting "The Valley" captured the light and scenery so beautifully! 
Thanks for doing the show at Summerhill; it was a pleasure and an honor
to have you at our Winery.
Summerhill Pyramid Winery, Kelowna, BC
"I commissioned a piece from Louise for a client gift. The goal was to immortalize the property the lady had grown up in and give it a renewed sense of charm, as it had aged quite a bit.
Louise not only did that, she exceeded my expectations and created a piece that brought so much joy to my client!
Her sense of what the piece was for was conveyed in her work and every stroke of the brush seemed to take us back in time to a house that now empty, was once filled with love and joy and the laughter of a happy family.
I would highly recommend Louise to anyone looking for a special gift to share- thank you Louise!"

Personal Real Estate Corporation
FWG/ Christie's International Real Estate, Vancouver, BC
 We love the painting and having it hanging in our living room here at Predator Ridge.
Thank you so much for the artwork I purchased. It is even lovelier than I remembered! In addition, the colours go GREAT with our kitchen/great room
 I have been a fan of your art ever since I
visited the Red Rooster Winery in October of last year.
"It was a pleasure working with Louise.  Her art has captured the beauty of the Okanagan, adding warmth and beauty to our home.  She is very talented and exceptional to work with."
"Naramata Evening"  hangs proudly above the fireplace and brings my living room to life.   It captures the amazing beauty of the Okanagan.!  Louise did an excellent job helping me source the right art piece for my new home, with the appropriate frame. I have passed her name on to several friends and family".
My friend Joan and I visited your studio in September on the Studio Tour.   I purchased the Hudson Orchard picture.   I love it – even more now.   It is a wonderful memory.
Vancouver, British Columbia
I am looking forward to surprising my wife with the painting.  I know that she will love it.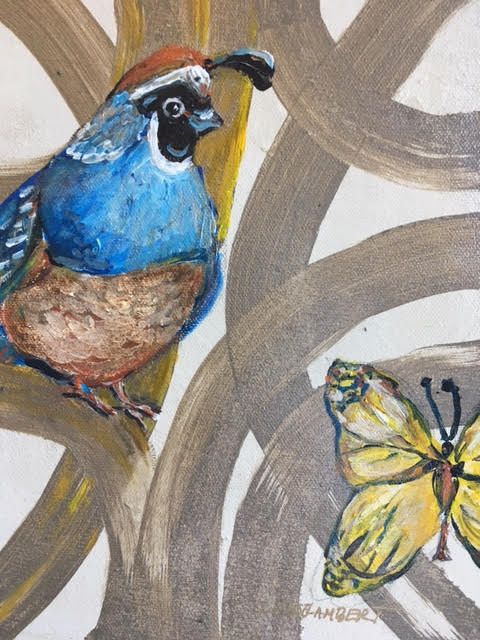 Buy Now