This original acrylic painting, of autumn vineyards, lakes and mountains captures the local wild life.  Painted just minutes away from Wine Country Studios, the lush vines offer the deer a refuge, to socialize and relax. Warm colours contrast with a background of the cool Okanagan Lake and mountains, creating a stunning contrast.  This artwork is a welcoming view that you will want to either hang in your hall, family room or wine bar.  Painted on canvas, measuring 24" by 36" choose a studio frame or hang it without a frame for a more casual look.
What Our Clients Have To Say
Your painting "The Valley" captured the light and scenery so beautifully! 
"It was a pleasure working with Louise.  Her art has captured the beauty of the Okanagan, adding warmth and beauty to our home.  She is very talented and exceptional to work with."
My friend Joan and I visited your studio in September on the Studio Tour.   I purchased the Hudson Orchard picture.   I love it – even more now.   It is a wonderful memory.
Vancouver, British Columbia
I recently participated in the paint your spirit animal workshop and thoroughly enjoyed it! it's a relaxing pressure free environment that allows you to really get into what you are painting. Louise provides Insite and guidance without taking away your creativity. I would 100% recommend this workshop!
This is the perfect learning atmosphere. And if advanced to enjoy the atmosphere. Highly recommend -it was a spectacular workshop and a lot of fun.
Thanks for doing the show at Summerhill; it was a pleasure and an honor
to have you at our Winery.
Summerhill Pyramid Winery, Kelowna, BC
"Thanks so much for all your inspiration to get our dream painting to canvas"
That is Incredible! I love it!  "Wine Time for Canines", It looks so great! 
Did I mention I love it? In addition, thank you!
"I have purchased numerous paintings from Louise throughout the years.  The room absolutely comes to life once Louise's artwork is hung and then there is such a story to tell.  Each piece has a unique story and sharing that story with others simply never gets old.  She paints the most romantic, vibrant, beautiful creations.  Her work is stunning.  It is always a pleasure showcasing Louise's artwork in our home.  The compliments are endless.  Louise is exceptionally talented."
I am looking forward to surprising my wife with the painting.  I know that she will love it.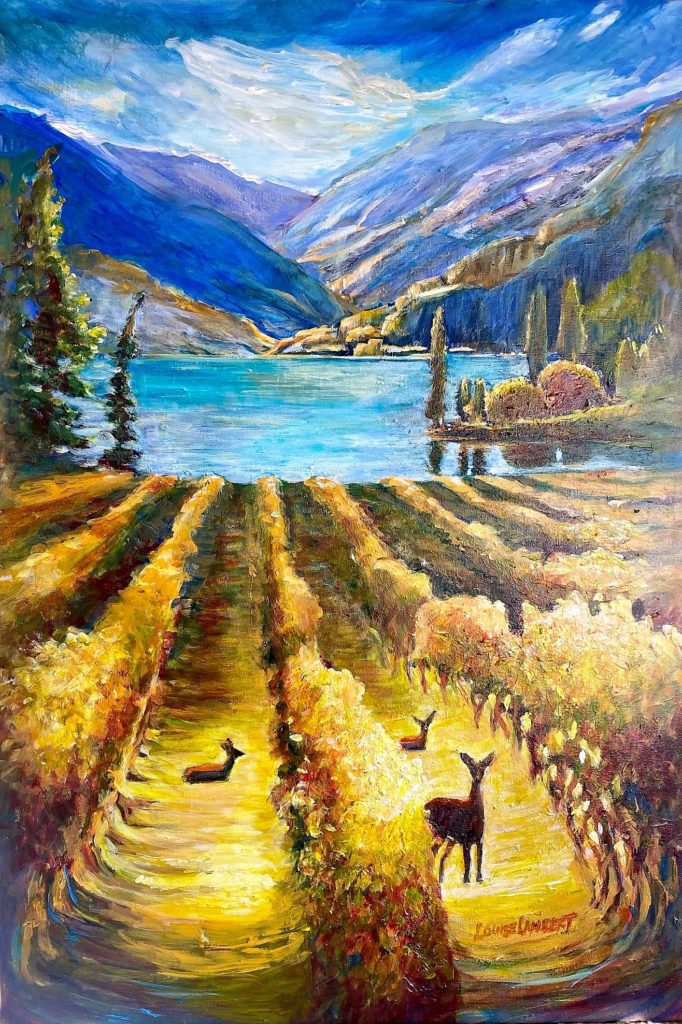 $890.00
In stock