This original acrylic painting, of autumn vineyards, lakes and mountains captures the local wild life.  Painted just minutes away from Wine Country Studios, the lush vines offer the deer a refuge, to socialize and relax. Warm colours contrast with a background of the cool Okanagan Lake and mountains, creating a stunning contrast.  This artwork is a welcoming view that you will want to either hang in your hall, family room or wine bar.  Painted on canvas, measuring 24" by 36" choose a studio frame or hang it without a frame for a more casual look.
What Our Clients Have To Say
Your painting "The Valley" captured the light and scenery so beautifully! 
"Louise took our thoughts for the type of art we wanted in our home and worked with us to give us a beautiful painting that we could not be happier with.  This is our third painting of Louise's and it fits so will with the previous two"
That is Incredible! I love it!  "Wine Time for Canines", It looks so great! 
Did I mention I love it? In addition, thank you!
"I have purchased numerous paintings from Louise throughout the years.  The room absolutely comes to life once Louise's artwork is hung and then there is such a story to tell.  Each piece has a unique story and sharing that story with others simply never gets old.  She paints the most romantic, vibrant, beautiful creations.  Her work is stunning.  It is always a pleasure showcasing Louise's artwork in our home.  The compliments are endless.  Louise is exceptionally talented."
"Louise's work is astonishing.  Just when you think you've got her pegged as a landscape artist, she turns around and does beautiful still and wildlife paintings.  Versatile and gently helpful.  Loved the painting she did for me."
Thank you so much for the artwork I purchased. It is even lovelier than I remembered! In addition, the colours go GREAT with our kitchen/great room
"It was a pleasure working with Louise.  Her art has captured the beauty of the Okanagan, adding warmth and beauty to our home.  She is very talented and exceptional to work with."
Your painting resides over the fireplace where it looks great.
Inspiring Art, captivating the warmth of the natural resources of Kelowna, variety and range of work imagination and something powerful.
"Louise created several commission works for our office; she is professional, on time and on budget.  The artworks are beautiful and add so much interest to our clinic." 
The De Pieri Clinic, Kelowna, British Columbia.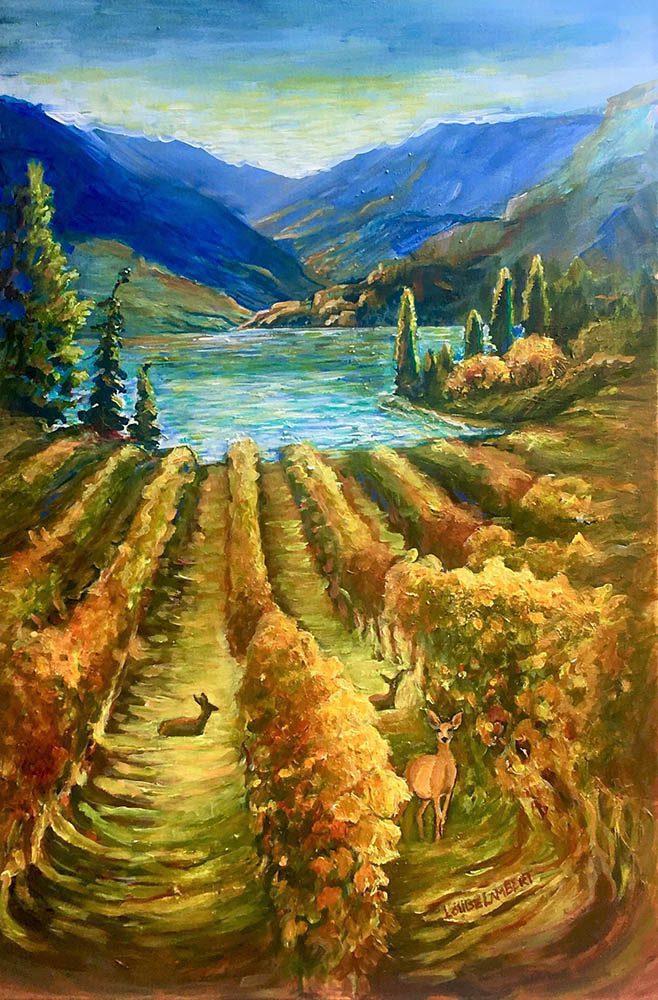 Buy Now