Walk On The Vine Side
$1,200.00

acrylic on canvas – 30×40
Original Art by Louise Lambbert
Sold
This artwork takes you on a walk through the rolling vineyards towards Lake Okanagan, Kelowna. Natural shades of greens, soothing blues with a hint of merlot moves you through a secret passage in these vineyards.    "Walk on the Vine Side" inspiration was discovered steps away from Wine Country Studios and showcases Quail's Gate Winery Vineyards.
Its impressive size at 30" by 40", painted in acrylic, opens up the space in any room.
What Our Clients Have To Say
I am looking forward to surprising my wife with the painting.  I know that she will love it.
Thanks for doing the show at Summerhill; it was a pleasure and an honor
to have you at our Winery.
Summerhill Pyramid Winery, Kelowna, BC
After seeing the painting on the cover of the Okanagan Fall Wine Festival, we went online to discover more about the artwork of Louise Lambert and proceeded to visit her at her studio for an up close and personal impression.  For a long time we had been looking for a painting that would grace our home with the wine country, we are so lucky to live in. Louise fulfilled our dream by painting ¨Symphonie Champêtre¨ in which she has captured the warm earthy tones of the vineyards with its ever-changing glows against the majestic background the Okanagan Mountains and lake suggest.  It is with great pride and enthusiasm that we welcome our dream come true!
I enjoyed my afternoon painting spirit animals and a glass of wine. Louise is a good instructor with helpful gentle guidance. My Ravens are in my kitchen.
"Louise's work is astonishing.  Just when you think you've got her pegged as a landscape artist, she turns around and does beautiful still and wildlife paintings.  Versatile and gently helpful.  Loved the painting she did for me."
Your painting "The Valley" captured the light and scenery so beautifully! 
 We love the painting and having it hanging in our living room here at Predator Ridge.
"It was a pleasure working with Louise.  Her art has captured the beauty of the Okanagan, adding warmth and beauty to our home.  She is very talented and exceptional to work with."
"Louise created several commission works for our office; she is professional, on time and on budget.  The artworks are beautiful and add so much interest to our clinic." 
The De Pieri Clinic, Kelowna, British Columbia.
Thank you so much for the artwork I purchased. It is even lovelier than I remembered! In addition, the colours go GREAT with our kitchen/great room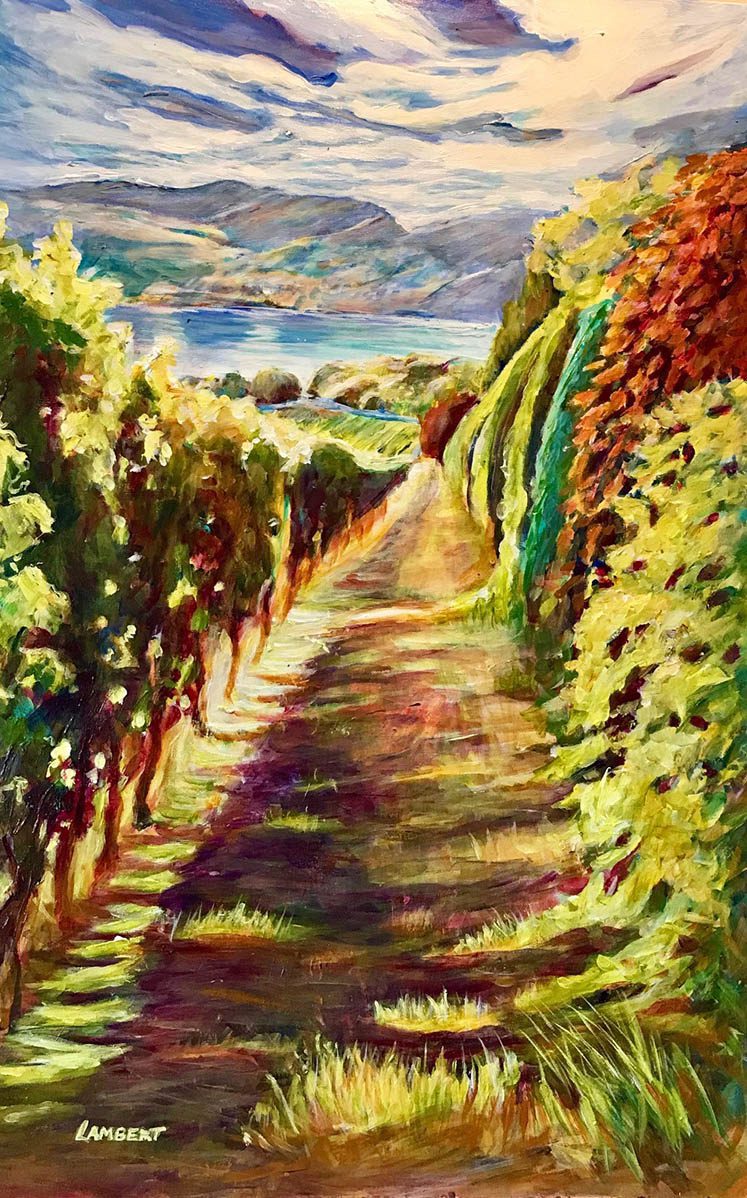 $1,200.00
Sold