Blue By You
$389.00
 acrylic on canvas – 18 x 20
Original painting by Louise Lambert
Sold
 Sunrise above the Vineyards
As the sunrises towards the blue sky it wakens the vineyards infusing a brilliant glow.  Crispness is in the air, as autumn approaches and wine harvest time nears.  This study, painted by Lambert, captures the first light of day.  "Blue by you" borrows, a Van Gogh's palate of complimentary blues and yellows, found in the south of France.  Lambert was influenced by her recent studies of Vincent Van Gogh's artwork.
Measuring 18" by 20", painted in acrylic; it will add a pop of colour to your home to complete your room.
What Our Clients Have To Say
I am looking forward to surprising my wife with the painting.  I know that she will love it.
Thank you so much for the artwork I purchased. It is even lovelier than I remembered! In addition, the colours go GREAT with our kitchen/great room
We love our paintings.  It sits on the l wall above a staircase that looks perfect there!
"Louise created several commission works for our office; she is professional, on time and on budget.  The artworks are beautiful and add so much interest to our clinic." 
The De Pieri Clinic, Kelowna, British Columbia.
Inspiring Art, captivating the warmth of the natural resources of Kelowna, variety and range of work imagination and something powerful.
I recently participated in the paint your spirit animal workshop and thoroughly enjoyed it! it's a relaxing pressure free environment that allows you to really get into what you are painting. Louise provides Insite and guidance without taking away your creativity. I would 100% recommend this workshop!
My friend Joan and I visited your studio in September on the Studio Tour.   I purchased the Hudson Orchard picture.   I love it – even more now.   It is a wonderful memory.
Vancouver, British Columbia
"I have purchased numerous paintings from Louise throughout the years.  The room absolutely comes to life once Louise's artwork is hung and then there is such a story to tell.  Each piece has a unique story and sharing that story with others simply never gets old.  She paints the most romantic, vibrant, beautiful creations.  Her work is stunning.  It is always a pleasure showcasing Louise's artwork in our home.  The compliments are endless.  Louise is exceptionally talented."
Your painting resides over the fireplace where it looks great.
I enjoyed my afternoon painting spirit animals and a glass of wine. Louise is a good instructor with helpful gentle guidance. My Ravens are in my kitchen.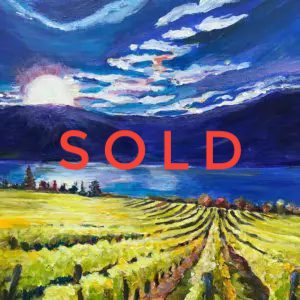 $389.00
Sold