Lake Okanagan – Original Art
Acrylic on Canvas – 24 x 30
Original Painting by Louise Lambert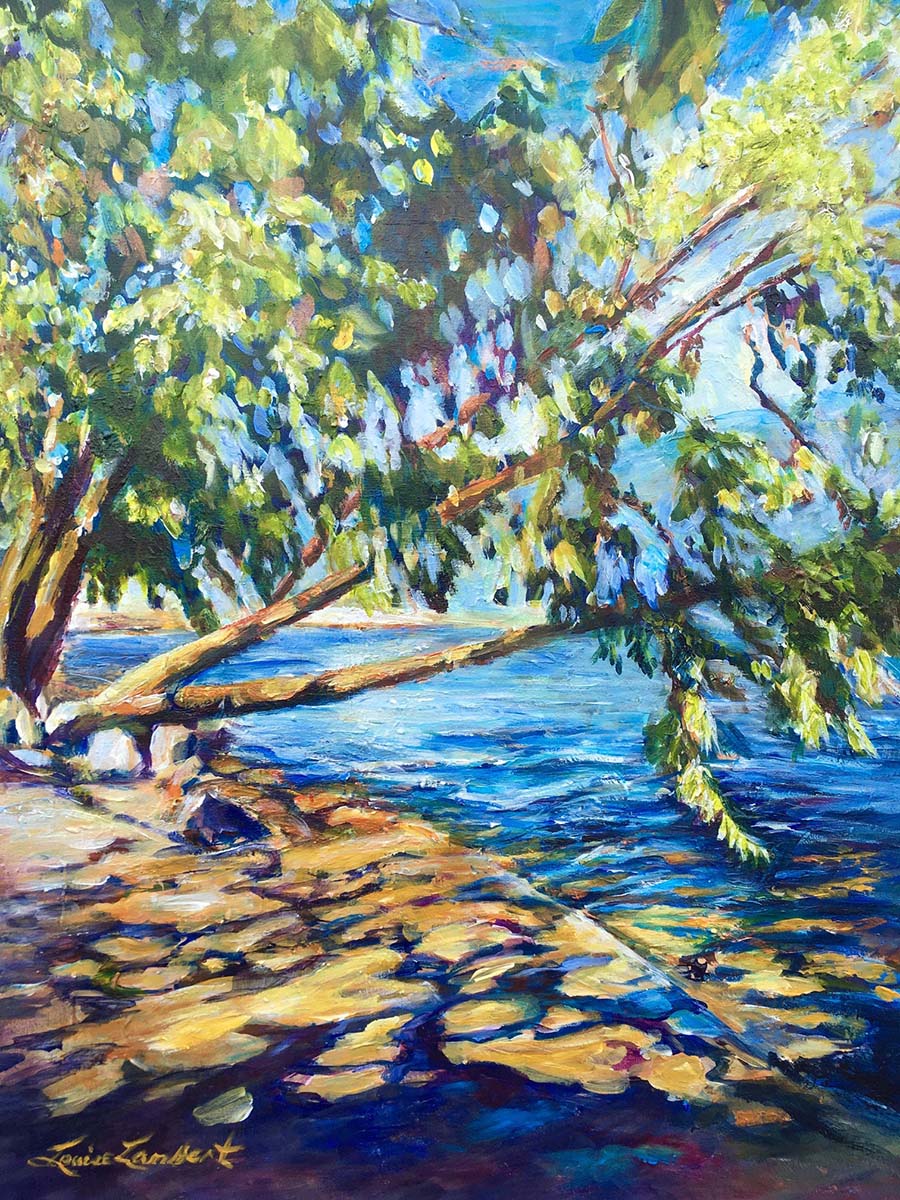 Scenic Lake front artwork is framed by trees bowing towards the lake and reaching for the sky, with dappling light reflected on the shore.  You can almost hear the water caressing the shoreline.  A summer breeze blows fresh air across the mountains cooling the coastline.It's the perfect summer day and the moment is captured in this impressionistic artwork by Louise Lambert.  Painted on canvas, dimensions: 24" by 30".
What Our Clients Have To Say
Your painting "The Valley" captured the light and scenery so beautifully! 
"Louise created several commission works for our office; she is professional, on time and on budget.  The artworks are beautiful and add so much interest to our clinic." 
The De Pieri Clinic, Kelowna, British Columbia.
"I commissioned a piece from Louise for a client gift. The goal was to immortalize the property the lady had grown up in and give it a renewed sense of charm, as it had aged quite a bit.
Louise not only did that, she exceeded my expectations and created a piece that brought so much joy to my client!
Her sense of what the piece was for was conveyed in her work and every stroke of the brush seemed to take us back in time to a house that now empty, was once filled with love and joy and the laughter of a happy family.
I would highly recommend Louise to anyone looking for a special gift to share- thank you Louise!"

Personal Real Estate Corporation
FWG/ Christie's International Real Estate, Vancouver, BC
Your painting resides over the fireplace where it looks great.
"Louise's work is astonishing.  Just when you think you've got her pegged as a landscape artist, she turns around and does beautiful still and wildlife paintings.  Versatile and gently helpful.  Loved the painting she did for me."
 I have been a fan of your art ever since I
visited the Red Rooster Winery in October of last year.
"Louise took our thoughts for the type of art we wanted in our home and worked with us to give us a beautiful painting that we could not be happier with.  This is our third painting of Louise's and it fits so will with the previous two"
"I have purchased numerous paintings from Louise throughout the years.  The room absolutely comes to life once Louise's artwork is hung and then there is such a story to tell.  Each piece has a unique story and sharing that story with others simply never gets old.  She paints the most romantic, vibrant, beautiful creations.  Her work is stunning.  It is always a pleasure showcasing Louise's artwork in our home.  The compliments are endless.  Louise is exceptionally talented."
Thank you so much for the artwork I purchased. It is even lovelier than I remembered! In addition, the colours go GREAT with our kitchen/great room
My friend Joan and I visited your studio in September on the Studio Tour.   I purchased the Hudson Orchard picture.   I love it – even more now.   It is a wonderful memory.
Vancouver, British Columbia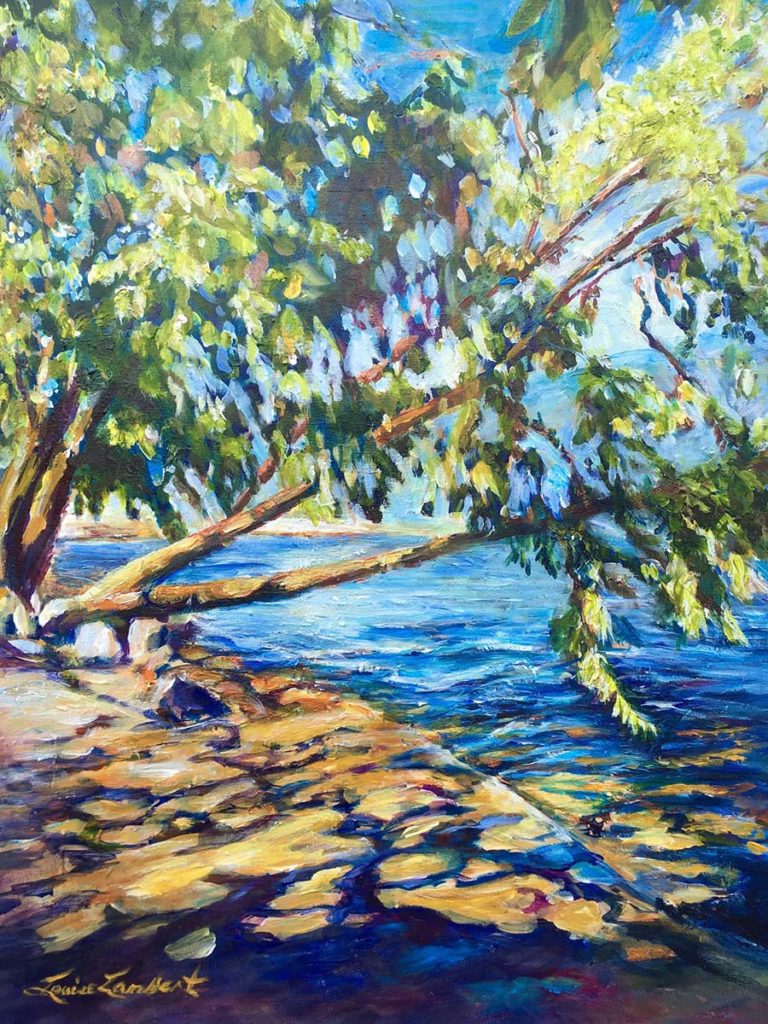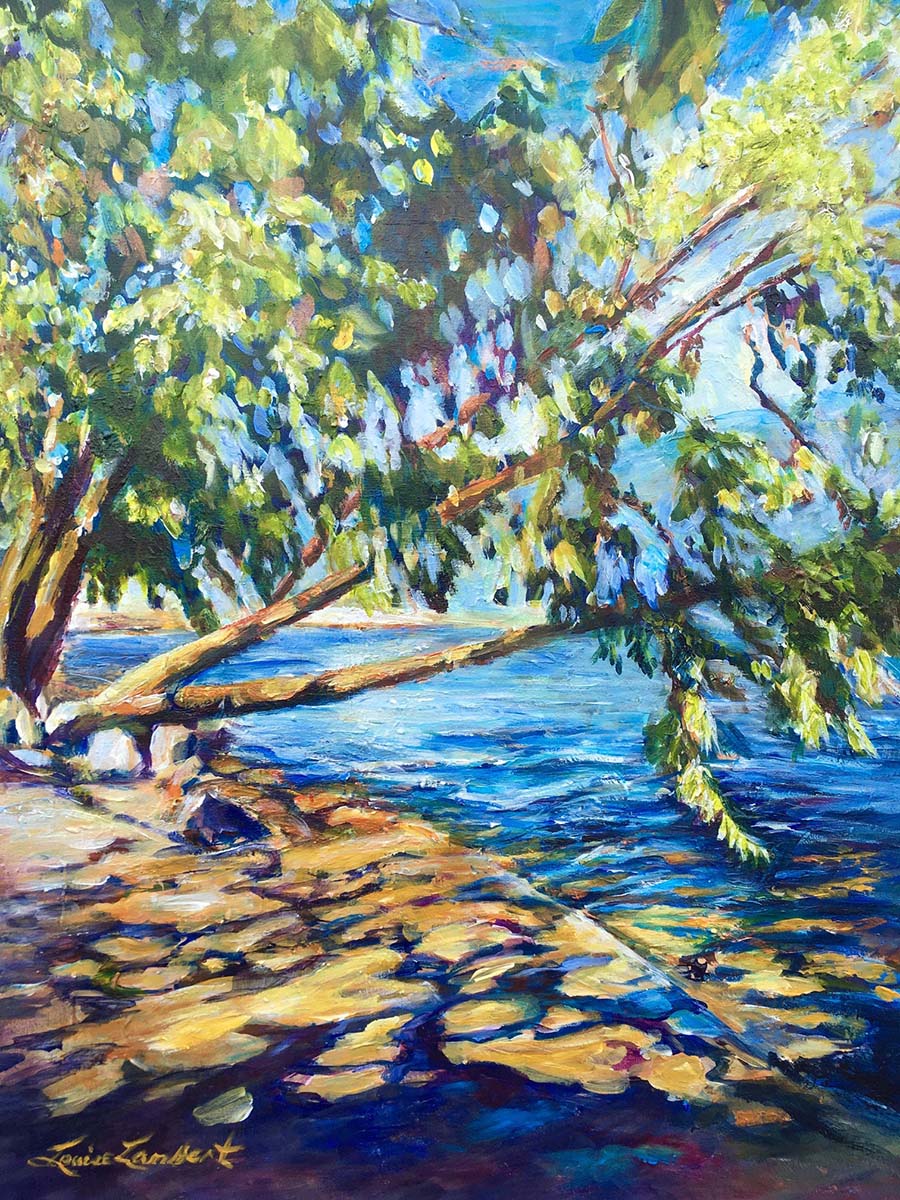 Buy Now